Select Item.
Quantity.
On clearance - Expiration date 06/13
Medical Grade Green Soap Tattoo Wipes.
Using Green Soap Wipes is SAFER, & will SAVE you Time, Money, & Labor.
Let me ask you, would you want a doctor cleaning your open wound with a paper towel? Tattoo with a medical grade sterile product. Its safer for your customers and keeps your work area clean from cross contamination.
No need to put down your tattoo machine to reach for paper towels and your squeeze bottle. Everything can be down with just 1 hand. Being a Tattoo artist, Time is money and the more time you have the more tattoo's you can do. By using these Green Soap Wipes you will tattoo faster and more efficient.
The money spent on paper towels, green soap, & water can all be eliminated. Stop waisting your time folding paper towels or waisting money paying someone to do it for you. Save your hands from many ailments like, tendonitis, & carpal tunnel.
Tattoo Green Soap Wipes are all Individually sealed in packs of 40-Wipes with a special Foil Laminate to keep them safe from Dry Out & to keep them Sterile.

On clearance - Expiration date 06/13

Also Available in:
Featured Article in URBAN INK Magazine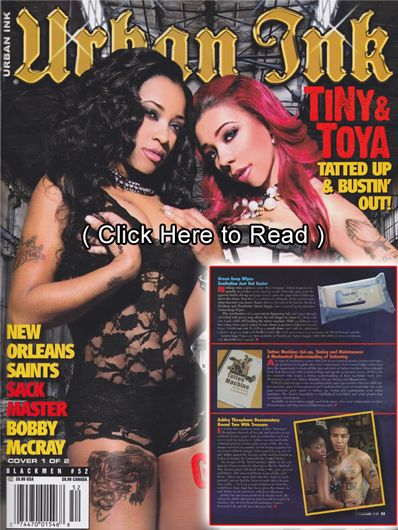 Demo Video