WorldWide Tattoo Supply

News & Events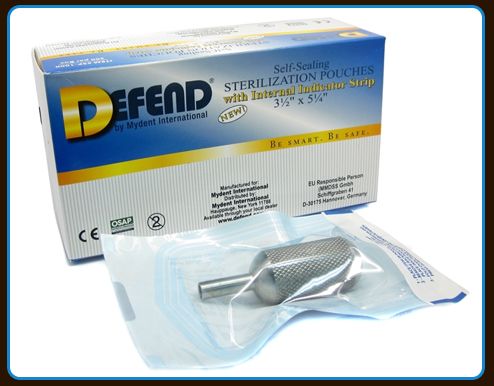 FREE STERILIZATION


We here at WorldWide Tattoo Supply would like to promote the safe use and sterilizing of Non-disposable grips.
If you are using Stainless Steel Grips, you are must sterilize your grips after every single use.
We would like to offer FREE Sterilization services to all our tattoo artist customers.

Bring In or Mail In you grips/tips/tail ends to our California Office. ALL Grips/Tips/Tail Ends must be cleaned and
pouched in order to receive the FREE Service. Additional Fees will apply for cleaning, pouching, & return mailing.
Service prices listed below are for up to 10 Grip Set.

Standard 1-2 day service (FREE)
Express same day service ($10 Fee)
Sonic Cleaning & Pouching ($5 Fee)
Return Mailing Service ($7 Fee)


Please have this order form filled out before dropping off your equipment.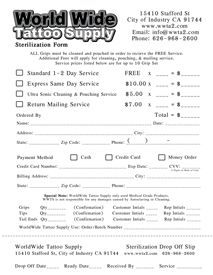 (Click Here to Download Sterilization Form)


If you want to mail in your equipment to be sterilized, please send it to:

WorldWide Tattoo Supply
Sterilization Department
154510 Stafford St
City of Industry CA 91744

Make sure to include your payment for return mailing service, if there is no payment this may cause
a delay to receive your equipment back to you.

WorldWide Tattoo Supply is not responsible for any damages caused by sterilizing. WWTS is also not responsible
for lost packages sent to us. Make sure to have a tracking number to insure that your equipment arrives to our location. We also reserve the right to refuse service.