WORLDWIDE TATTOO SUPPLY™ U.S.A

WORLDWIDE TATTOO SUPPLY™, a division of TCM SUPPLY CORP, has developed
into the #1 Manufacturer and Supplier in the Tattoo Industry. Our main office &
headquarters is located in City of Industry California (Los Angeles).

While supplying locally here in the United States, we also have offices and distributors located
throughout the world. Opening our doors in 1993, we strive to continue providing our
customers with the best products and customer service possible. We manufacture most of
our quality tattoo equipment, Tattoo Needles being our specialty. We also offer a extensive
range of medical supplies & piercing supplies.

WWTS commits itself to High Quality Products through step-by-step inspections, the end
product being the FINEST Tattoo Needles in the industry. Our sterilization procedure
complies with F.D.A. requirements and our manufacturing facilities are ISO-9002 certified.
Due to our high sales volume, we are able to give our customers competitive prices without
having to suffer from poor quality products. WORLDWIDETATTOO SUPPLY has
developed many products and will continue to be an innovator in the tattoo industry. We
invite you to join our thousands of satisfied customers and friends we have made
throughout the years.
We welcome you to come visit our WALK IN STORE (09:30 AM ~ 05:00 PM (PST) Mon ~ Fri.)
Need to get your supplies urgently, Pick it up the Same Day
Browse our Showroom & Fill Out a Order Form
FREE 25% Membership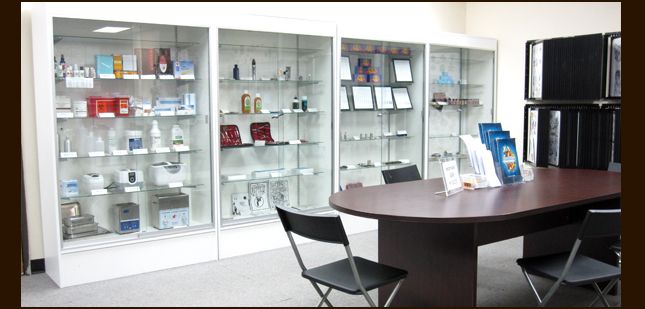 STORE LOCATION & DIRECTIONS

WorldWide Tattoo 15410 Stafford St, City of Industry CA 91744
1-800-333-4069 & www.worldwidetattoo.com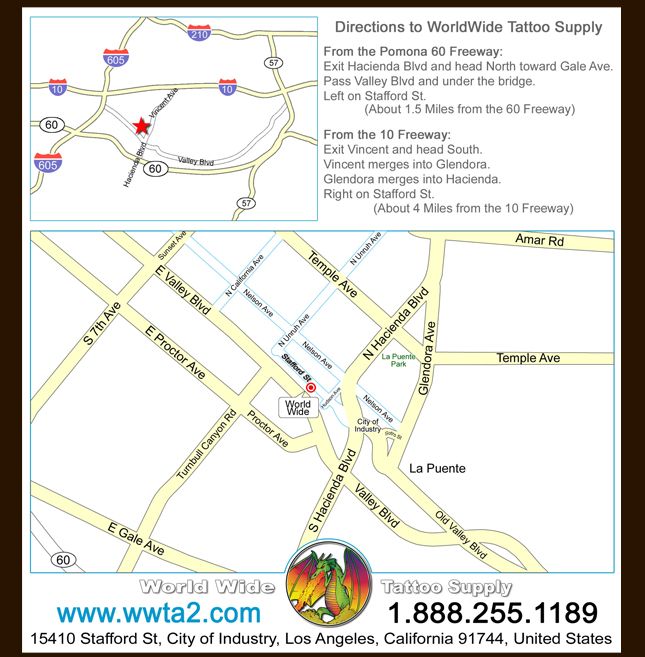 PHONE & FAX ORDERS


PHONE NUMBER: 1 (626) 968 2600
TOLL FREE 1 (800) 333 4069
FAX NUMBER: 1 (626) 968 8180

(All phone orders placed before 3pm Pacific Standard Time will be shipped out the same business day)
ONLINE ORDERS

ORDER ONLINE 24 Hours a Day

(All Online Orders placed before 7am Pacific Standard Time will be shipped out the same business day)
PAYMENT METHODS

Payment Method accepted : COD (Cash On Delivery), All Major Credit Cards, Wire Transfers and Paypal
WWT MEMBERSHIPS
(25% Off Non Member Prices)
Sign up today and receive a FREE Memberships
(Limited time offer & a $10 Value). Your membership
is valid for 1 year. Members save 25% on all Merchandise.
On the website you will see the 2 Different prices Members
Prices & Non-Members Prices. As a member you will receive
the Members Prices, Not 25% additional off Members price. Custom Kits already include the 25% discount and 25% does not apply to Sale Items
SHIPPING METHODS
        UPS:Ground, 3-Day, 2-Day, & Next Day Shipping Available

EXPEDITED SHIPPING NOTE: Only Mon-Fri count as business days. Begin counting business days from the next business day your order is shipped out (which is not always the same day you placed your order). We ship Monday-Friday.

Saturday Delivery is available (added cost).
Please call for more details.



USPS (US Postal Service): First Class, Priority, & Express Shipping Available.
(Please allow 1-2 additional business days for processing USPS Orders)





RETURN POLICY

1) Must be returned within 30 days of receipt. Item must be in ORIGINAL CONDITION with ORIGINAL RECEIPT.
2) S/H is NOT refundable. TCM/WWT is not responsible for return shipping.
3) 10% restocking fee for returned items. (No Exceptions)
4) Starter Tattoo Kits are FINAL SALE – NO REFUNDS, RETURNS, EXCHANGES, OR REPLACEMENTS (Including Defective Items in Starter Tattoo Kits)
5) All ink & DVDs are non refundable. (No Exceptions)


DISCLAIMER: TCM/WWT Supply Corp sells medical and tattoo related merchandise (collectively, the "Merchandise") only to individuals who can legally purchase and own such items in the particular jurisdiction where they reside. Your purchase of TCM/WWT Merchandise, whether in person, by telephone, by mail, by fax, or over the Internet, legally binds you and your heirs, assigns, transferees, and personal representatives as follows: When you order and purchase Merchandise from TCM/WWT, you represent that you are of legal age to purchase the Merchandise ordered and that the Merchandise can be purchased and owned in your state, county, and/or city of residence. By offering Merchandise for sale, TCM/WWT does not represent or warrant that any specific purchaser may legally purchase, own, or possess the Merchandise ordered. TCM/WWT Merchandise may be dangerous and can cause physical and chemical damage to certain individuals. When you purchase Merchandise from TCM/WWT, you agree to assume all risks related to and/or arising from your ownership and use of the Merchandise and agree to indemnify and hold TCM/WWT harmless from any and all claims brought by any person or entity against TCM/WWT related to and/or arising from your ownership and/or use of the Merchandise. This includes damaged and defective items. You also agree that you will use the purchased Merchandise in a safe and legal manner, consistent with all applicable laws, recognized safety rules, and good common sense. You, as the buyer, assume all responsibility and risk with the purchase of any product from TCM/WWT. You further agree to keep TCM/WWT Merchandise out of the hands of minors and untrained and/ or immature individuals. TCM/WWT does its best to accurately represent the Merchandise, through photo, price and copy. Occasionally we make mistakes. If such a mistake should occur, your order will be corrected as the facts may dictate. Thank you for your understanding.